Take advantage now of Cim Finance's Leasing solution for the purchase of your vehicle
A team of professionals is at your service to advise and support you at each stage of your project.
Benefit from a flexible reimbursement, perfectly suited to your means (up to 84 months) and rapid processing of your file.
Green Lease
Cim Finance believes that it has a role to play in mitigating the impact of climate change on Mauritius and our planet. We are committed to promoting sustainable actions, which will benefit both our customers and the community.
The Cim Finance green lease financing plan is specially designed to support the purchase of environmentally friendly* vehicles and equipment.
We offer a highly competitive interest rate starting from 5.50% p.a for new electric and hybrid vehicles and financing up to 100%**.
* CO2 emissions level of not more than 79g of CO2 /km
**Terms and conditions apply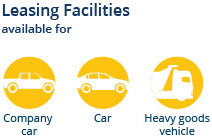 For more information, click 'Download brochure'